31st January 2017
Today we celebrated Chinese New Year!
Today we have learnt all about Chinese New Year, the year of the Rooster.
The children have had the opportunity to make a Rooster, Dragon, Chinese Lantern and a Chinese Envelope. The children also tasted some Chinese food, they tasted rice, noodles, prawn crackers and some sauces.
23rd September 2016
Maths
This week in maths we have been learning about < (less than) and > (more than).

The children have been counting in 2's, 5's and 10's.

We have also been making our own number lines.
English
This week we have been looking at the book 'The way back home' by Oliver Jeffers.

We have been drawing a story map to show the story sequence with writing to go with it.

The children have also wrote their own version of the story changing characters and the setting.
Music
We listened to Holst's Planet Suite and drew a planet inspired by the music.
This week the Squirrels took part in the Sponsored Walk with the rest of the school.
16th September 2016
This week we have been learning about space rockets. The children designed their own rocket and then made a rocket model using recyclable materials.
Maths
In maths we have been arranging ourselves in height order.

We have put stars, planets and rockets in order from smallest to largest.

The year one class have been learning about 1 more or 1 less.

The year two class have been learning about 10 more or less, some of them have even done 100 more or 100 less!
English
In English we have been reading 'The way back home' by Oliver Jeffers.

We also read 'The day the crayons quit' by Drew Daywalt, illustrated by Oliver Jeffers.
Music
We imagined what it would sound like in space and used musical instruments to create our own music.
Since September 2016 the Kingfishers Year One class has become the Squirrels Year One/Two class. Scroll down to see the work of the Kingfishers Year One class photos from 2015/16 and before, and scroll back up to see the work of the Squirrels class from September 2016 onwards!
The Kingfisher's love using Numicon in all sorts of ways to help solve maths problems!
We have been learning all about seasons!
We have been very busy back from the Christmas holidays becoming Number Detectives!
Here are a few of the wonderful Half Term pieces of creative work from some of our Kingfisher's Home Learning Books, Well Done!
Have a look at the super shape castles we made in Maths as we get to know our 3D Shapes!
In Art we have been taking inspiration from Paul Klee who said "A line is a dot that we take for a walk". We took the dot for a walk and imagined what it could be and here are the colourful results...
The Kingfishers have been very busy with their King's Challenge sorting and practicing their number bonds using all kinds of resources; from whiteboards to sorting coins, using hoops as well as interactive whiteboard games!
Kingfishers have been learning about Creation in RE and made a wonderful 'Small World' to help understand this
Look below to see all the wonderful work that the previous Year 1 got up to in 2014-2015
As you may have seen from our homepage, we have become Dragon Experts! We have each created our own dragon and written about what they would look like if we had one.
This week we have been learning all about Science! We went onto the playing field and found lots of different special objects to make our fabulous ice sculptures!
We also made ice cube paints! We dyed some ice cubes different colours and used them as a new painting material to create some lovely pictures.
As we were using ice as a recurring factor to our Science week, we wrote about what we knew about it. We also tried 4 different ways to melt the ice, making predictions with which one would melt the ice faster.
The different options were - putting it on the radiator, putting it in hot water, leaving it outside, and placing it under a light.
Once we had carried out the experiment, we had a class discussion about it.
We had a 'Van Gogh' week in Year 1.
We studied the painting 'Starry Night' and talked about what we could see.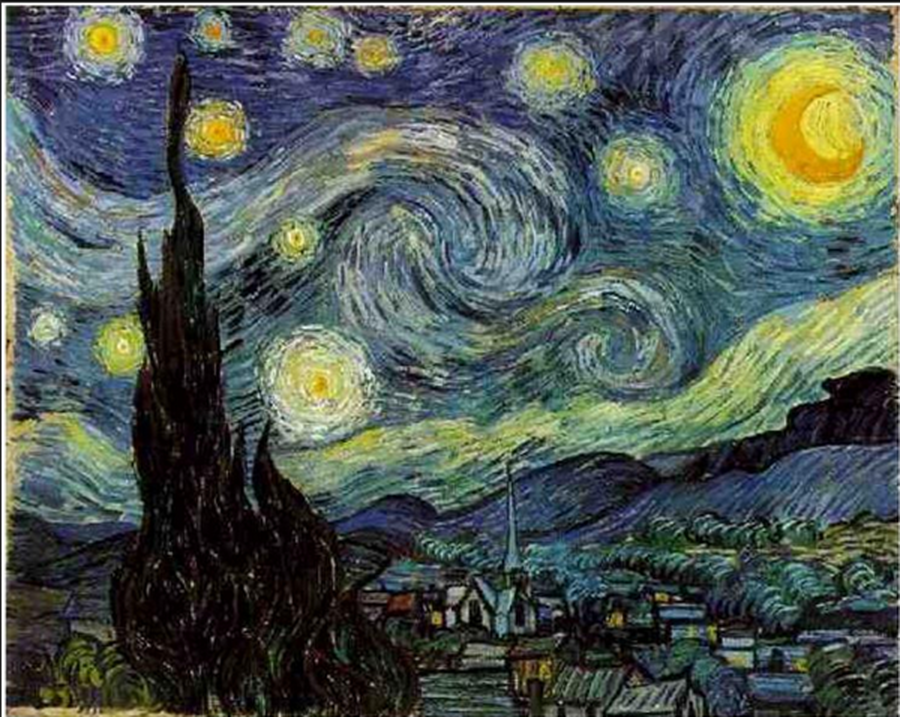 We wrote about the picture and painted our own versions.
We watched a video of the painting coming to life!
When some of us decided to dance to the 'Starry Night' video in the classroom, we re-created Van Gogh's picture through dance! We danced like the twinkling stars, the swaying trees and the swirling wind!
Physical Phonics
Mr Brooks takes us for a physical phonics lesson. We use our bodies in different ways and use lots of skills to find sounds and words.
In Year 1, we are extremely lucky to have a lady named Helen come in to see us every Tuesday to teach us how to play the violin!
We made our own vehicles in Design and Technology.
We had 'Elsa Sleighs', 'Submarines', 'Family cars' and even a 'Barbie aeroplane'!
In Literacy, we have been learning to write instructions! To show we were able to follow instructions we made gingerbread men.
Following this, we wrote down how we made the gingerbread men as instructions for other people to follow.
In Mathematics, we have been estimating and counting!
We can also identify numbers that are more than 10 and less than 10!
Here is our corner for Religious Education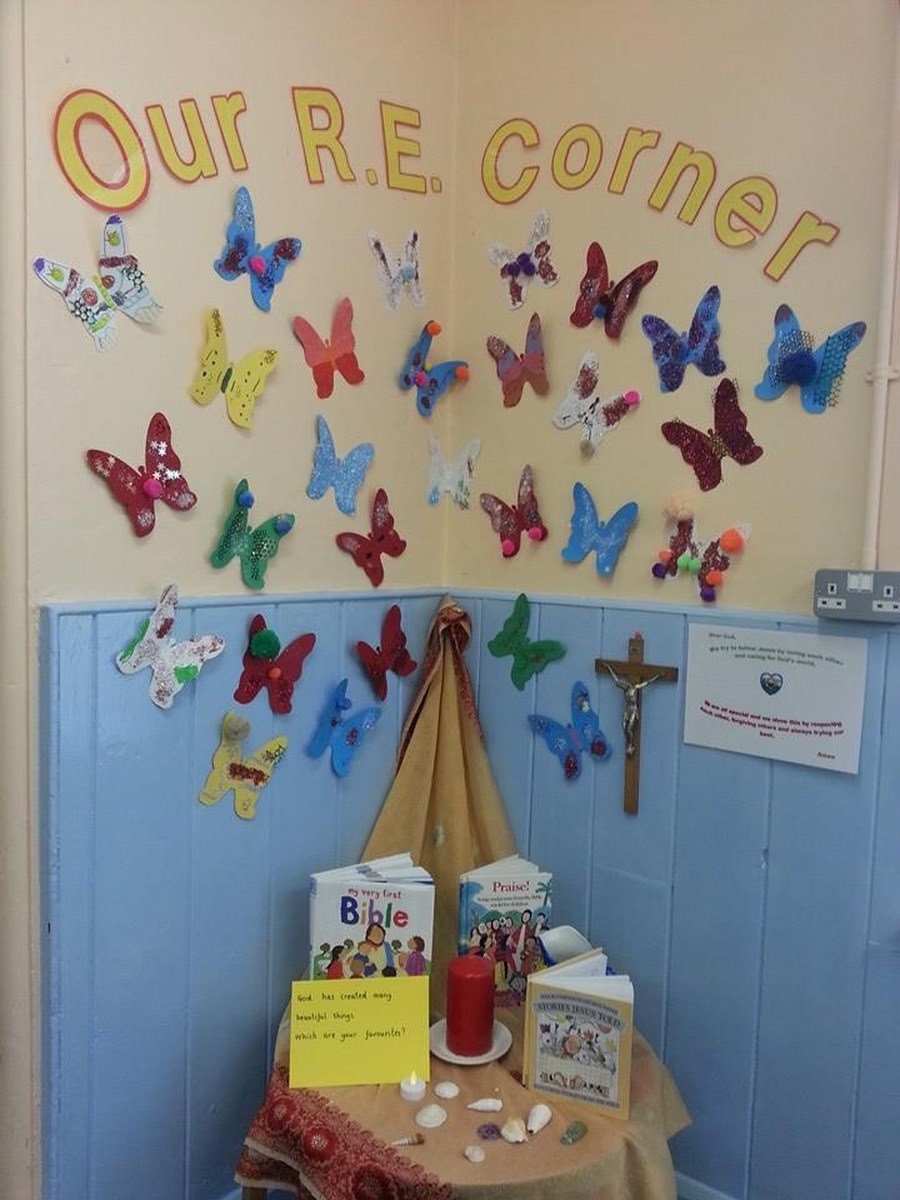 We made and decorated butterflies to show God's creations. We also included a little bit of Mathematics in our lesson by talking about symmetry.
In our R.E. lesson, we learned about the 7 days in which God created the world.
Day 1 - Light and Darkness
Day 2 - Sea and Land
Day 3 - Plants and Trees
Day 4 - Sun and Moon
Day 5 - All creatures
Day 6 - People
Day 7 - God rested.
Here is a selection of the children's drawings:
We listened to the story of Noah's Ark in R.E. and recreated the story through collages and drawings using pastels and chalks.