Healthy Me
Here at St.Augustine's we love being active! We enjoy a wide range of activities at lunchtime, in extra-curricular clubs, in school competitions, at special sports events, in inter-school competitions and of course in P.E!
We will post pictures and details of what we have been up to, so make sure you keep coming back to this page to find out what we have been doing.
Twelve pupils from Year 3 and 4 were lucky enough to go to the UEA to see the Davis Cup. We also had some excellent tennis coaching. We had a fantastic time!
Despite their recent relegation, Thursday 12th May saw Carrow Road host a spectacular day of football in a Canary Fives Competition for Y3/4. Twenty-four schools from around the region competed in a series of mini-tournaments to demonstrate and develop their football skills.
Representing St Augustine's were a strong squad of Y4 girls and boys who successfully won all four of their group matches through excellent teamwork and outstanding goal keeping.
Overall, it was a day of exceptional football, glorious sunshine, but more importantly one of tremendous fun which can only have lifted the spirits of Norwich City once again.
Congratulations to the team of Year 4 girls who took part in a Girls Football Competition organised by the Norwich Schools Partnership. Despite the rain, we had an enjoyable day and finished in a respectable 5th place overall, with the girls showing incredible team spirit and enthusiasm!
Year 4 boys and girls had a wonderful time in the sunshine at Norwich Rugby Club's Tag Rugby Competition. The whole team showed their impressive passing and defending skills and triumphed to become the overall winners. The winning teams were presented t-shirts and thanked the referees and hosts for organising such a fantastic day.
Our Cross Country Finalists had a beautifully warm day to run their races. They did fantastically well, with everyone beating their PB and with four top 10 finishers!
Year 5 competed well in the Y5/6 indoor Athletics competition. A talented and hard working group! We even learnt how to triple jump.
Year 1 had a wonderful time at the Football Festival; playing matches, being coached by Norwich coaches and receiving medals from Norwich City player Russell Martin!
Friday's Running Club has been a huge success, We have great fun and are keeping fit at the same time!
Here are Year 6 in action at the Tag Rugby Competition. They were praised for being highly organised and a super team!
Zumba Club has begun! Hope Year 3&4 have inspired everyone else to get involved!
Our first competition of the year, saw twenty KS2 children go to Taverham Hall for the cross country competition. Everyone did really well and SIX children qualified for the County Finals.
Following KS1's zumba session, KS2 could wait to try it out too!
Sports day in EYFS, KS1 and KS2 were great fun. Well done everyone for joining in so well and making it such a good event.
Here are some pictures of our Year 6 cricket team in action at both the inter-school and county finals competitions. Watch out Alistair Cook!
Every year we have our St.Augustines Feast Day celebrations. KS2 play in a football or netball competition while KS1 act as fantastic cheerleaders!
Here are some snaps of our Year 4 football team. They won every game at the Canary 5's football tournament. They scored lots of goals AND only let two in- brilliant goalkeeping!
Mrs Walters' ran the Marathon this year to raise money for CAFOD. To support her, we did our own in school 'Mini Marathon Challenge'. We raised £240 to help CAFOD teach people in Cambodia learn to read.
Here are some of our competition managers hard at work on the speed bounce challenge!
Our Year 5&6 Football team were invited to play at Carrow Road! Every player scored at least one goal, a great memory for life!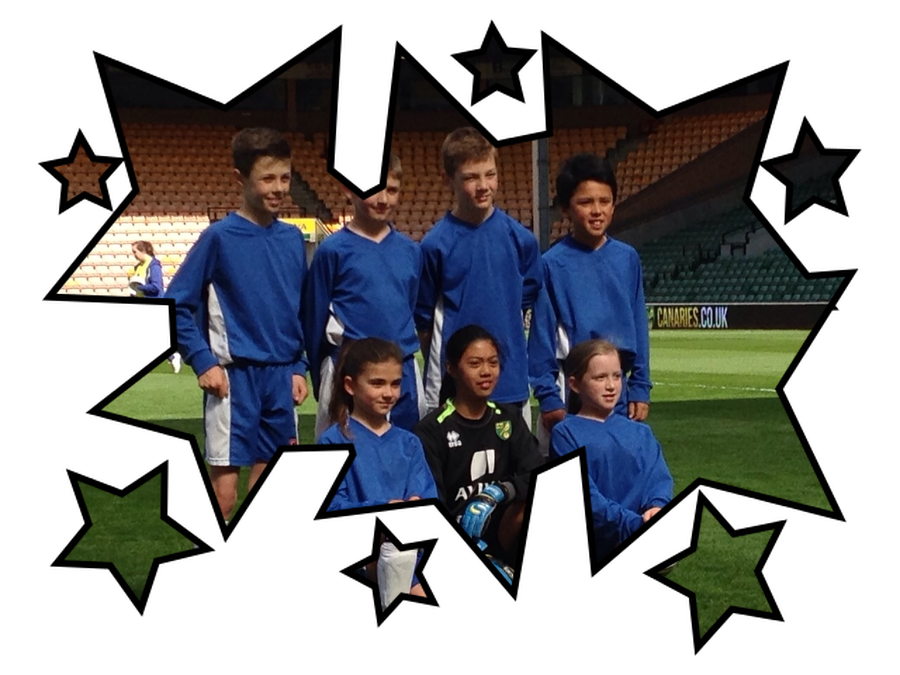 Here are Year 4 enjoying a little Quidditch!
After KS2 had some fantastic coaching from local Ex-Olympic Marathon runner, Paul Evans, we felt inspired to enter the local schools cross country competition. It was hard, but the children did their best. Five children even got through to the country finals!
The whole school got to enjoy a Karate taster session. If you would like to join a club, ask Mrs Turrell for details.
Here they are in their Norwich kit at Reading!
Year 5 & 6 entered a team in the NCFC Canaries 11 Football competition. They won the finals in the local competition and then got to go to Reading to represent Norwich City. They even got to wear the real Norwich City Football Kit!
The Year 6 Rugby Team did a brilliant job in the first round of the competition, they even got into the finals!
Our first whole school event was the annual sponsored walk. Some people got around the field VERY quickly and raised lots of money.
Clubs
After School Clubs
Year 1&2 continue to take part in tennis sessions after school on a Tuesday

.
Zumba club has started for Y3,4,5 & 6 on Tuesday.
Running Club has started for KS2 after school on Wednesday.
Summer Term-

Rugby Tots for KS1 on Monday (cancelled due to lack of uptake)

Lacrosse for Year 3&4/5&6 on Tuesday

Tennis club for KS1 on Tuesday

Cricket club for Year 5&6/3&4 on Wednesday

Zumba club for KS1/KS2 on Thursday

Running club for KS2 on Friday
Lunchtime Clubs
Lunchtime football club continues on Wednesday lunchtimes for KS2.

During lunchtime Mrs Wright offers a wide range of activities and equipment to make lunch times fun and happy!

Thank you to the Year 6 play leaders who go and play fun games with KS1 and EYFS- they love it!
KS2 speed stacking club on Friday lunchtime with our Legacy leaders.

Our Legacy Leaders would love to offer you a range of games in our 'active area' on Tuesday lunchtimes.
Competitions 2015-2016
After Team GB's success in the Davis cup this year, the LTA organised a tour of the Davis cup around the country. When it arrived in Norwich, a group of Year 3&4 children went and saw the enormous cup and enjoyed getting some professional tennis coaching.

The Norwich City Community Team arranged for schools to use the Carrow Road pitch for a one day football festival. The girls started each game with the boys finishing the match. We played four games, played well as a team, had a great day and won!

Our Year 4 girls got VERY wet at the all girls competition at the FDC Bowthorpe. They played really well and showed that hard work and team work are the most important things to have a great day!

Well done to our Y4 tag rugby team, their skills really improved throughout the day and they won in the final!

The cross country finalists had a lovely sunny day at Greshams School. We did exceptionally well with four top ten places and everyone beating their personal best.
A big well done to our Year 5 athletics team. You took part in the Y5/6 competition with great sporting enthusiasm.
The Year 1 football team also had a great time at the local KS1 football festival.
Well done to Year 5 for working hard to create your 'Global Domination' dance for the dance show in December.
Year Six Tag Rugby team worked extremely hard in the local tournament. Other school were very impressed by their organisation and team work.
Congratulations to all the KS2 runners who took part in the Cross Country Competition. We hope that our six qualifiers do well on the 1st February!
Competitions 2014-2015
Congratulations to our Year 6 cricket team! They won the schools round of the inter-schools competition AND came 6th in the county finals!
Well done to our Year 4 football team who enjoyed all their games at the Canary 5's competition on Friday 12th June. They all did brilliantly and won all their matches!
This half term we will be having a netball shoot out competition for KS2 at lunchtime. Year 4 and 5 will be our competition managers. If you would like to become a star shooter, come along and have a go!
Thank you to those who entered the dance competition!
The school's feast day tournaments were a big success! We saw lots of budding talent in both the netball and football inter-house competitions.
Well done to the winners of our last lunchtime competition. Y1-Y6 did brilliantly well in the 1-minute speed bounce competition. A big thank you to our wonderful competition managers too for doing your job so well!
A big thank you to everyone who took part in the mini-marathon challenge! We raised lots of money for CAFOD, found out who the fastest orienteering teams were in KS2 and who was the most agile in the KS1 obstacle course!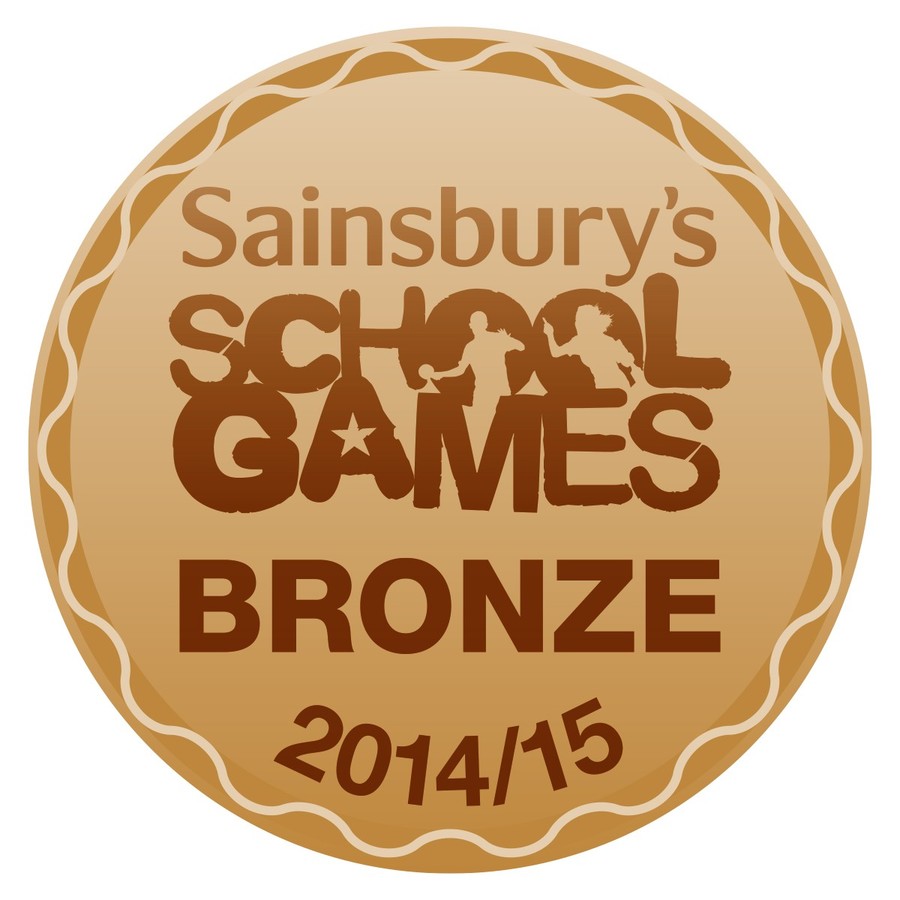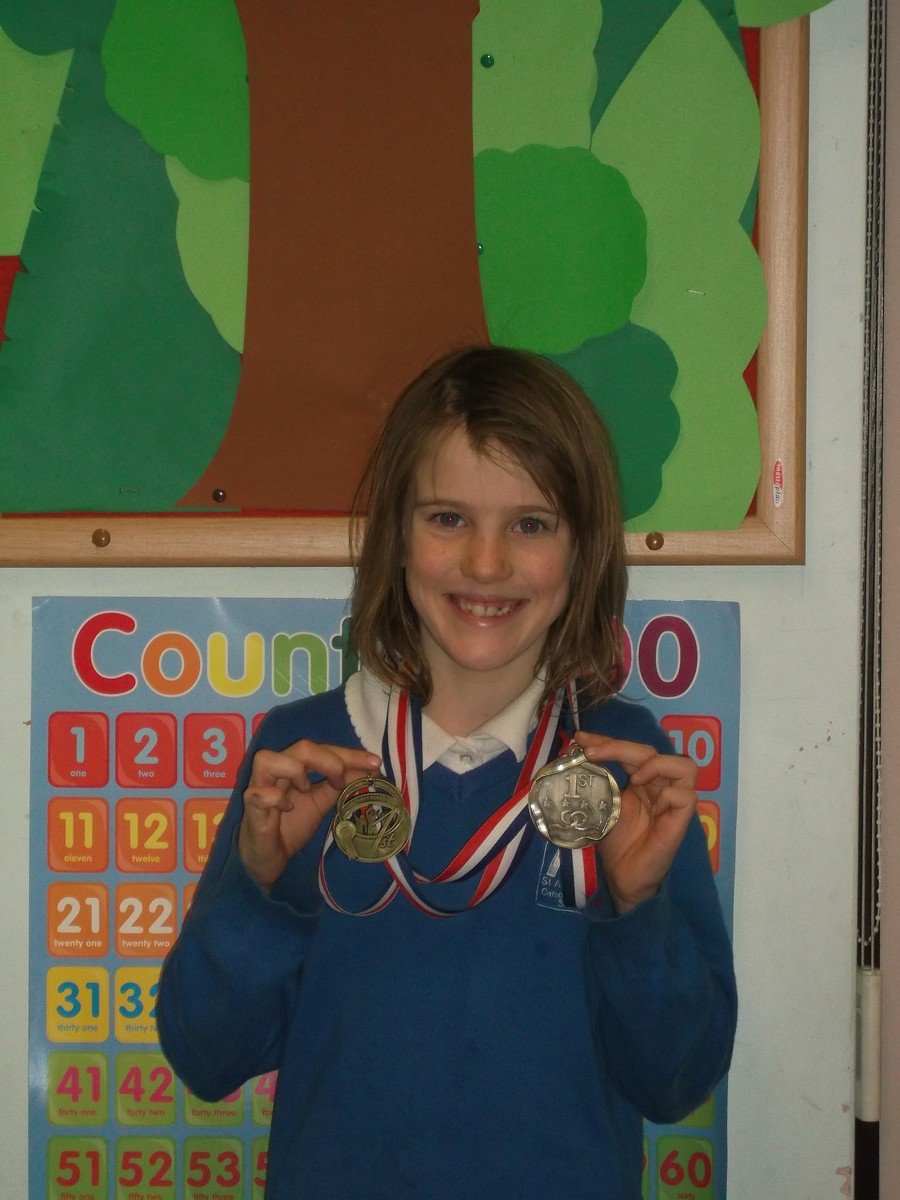 Well Done Grace! Number 1 under 10's skier in Norfolk!