Reception went on a visit to St. Walstan's Church prior to the visit Miss Aspin and Mrs Court explained to the children how they should behave in a church and the children also contributed their ideas and suggestions. When we arrived Father David explained to the children what happens on a Sunday and showed the children the font, the altar and the statue of Mary. The children used their sketch books to draw pictures of what they could see. The children really focused and produced some detailed drawings.
Reception and Nursery took part in a wonderful day learning about prayer with the 'Ignite' team.
Year 4 took part in a day of prayer, reflection and praise with the 'Ignite' visitors as they prepared for Lent.
We had a Lampedusa Cross in school , in year 6.
We wrote messages of hope for refugees and prayed for them.
The Lampedusa crosses were made by a Sicilian carpenter.
He made rough crosses from the wreckage of a boat, carrying refugees, which sank off the island Lampedusa.
the crosses were offered to the survivors as a symbol of hope.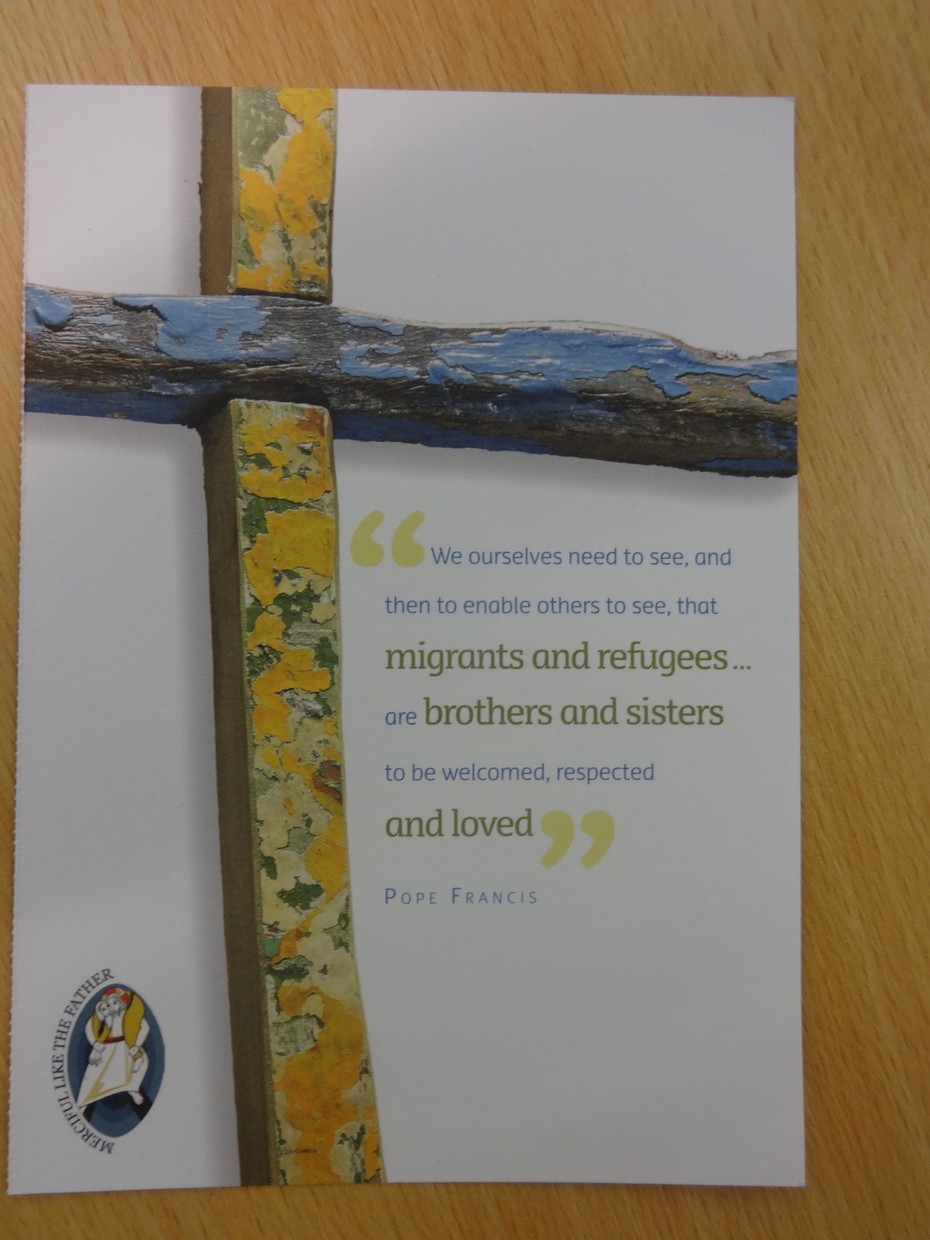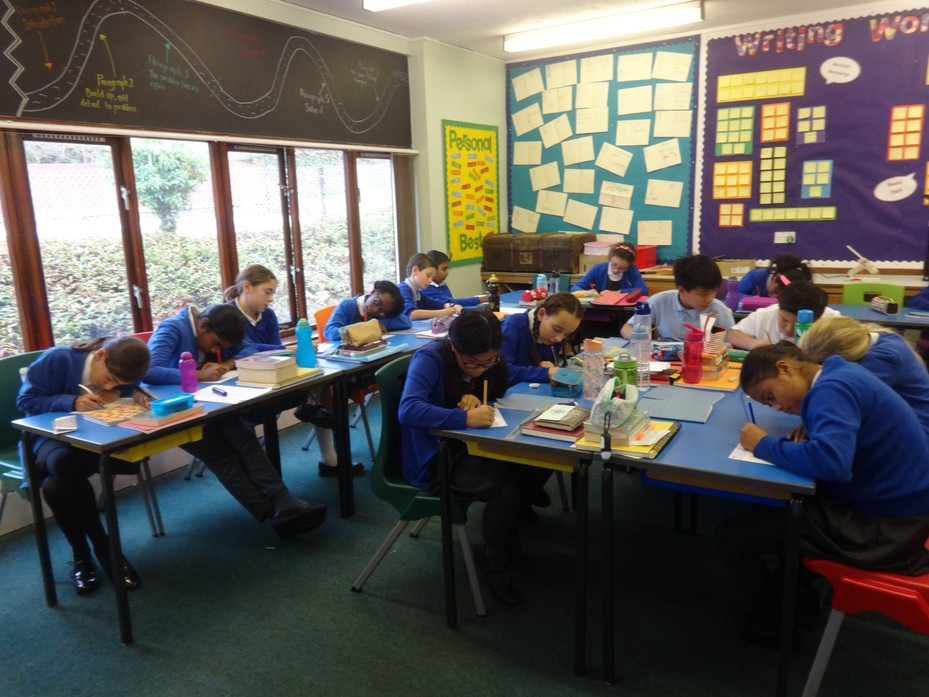 As part of Judaism fortnight in school, Year 3 visited the synagogue.
The Owl and Hedgehog class went on a trip to St.Walstan's Church!
Our special Ignite Lent assembly!
We all sang, danced and prayed with the Ignite Team in a great whole-school assembly!
Year 3 have been learning about the Eucharist. Have a look at our Last Supper freeze frames.
Year 1 Kingfisher's were visited by Mrs Walters and a special icon made by students at Notre Dame. They enjoyed a lovely prayer time and learnt all about the Year of Mercy!
Year 3 also enjoyed their visit from Mrs Walters and learning more about the Year of Mercy.
Here are some photos from Year 3's Ignite retreat. We learnt some songs, watched some drama and made stained glass windows of the Nativity.
Year 3 really enjoyed their visit to Norwich Synagogue as part of Judaism fortnight.
Mr and Mrs Parker from the Norwich Synagogue worked with each class on different aspect of Judaism!
The Year 1 Kingfishers R.E. Corner is looking very bright and colourful, full of ways we can help look after God's world!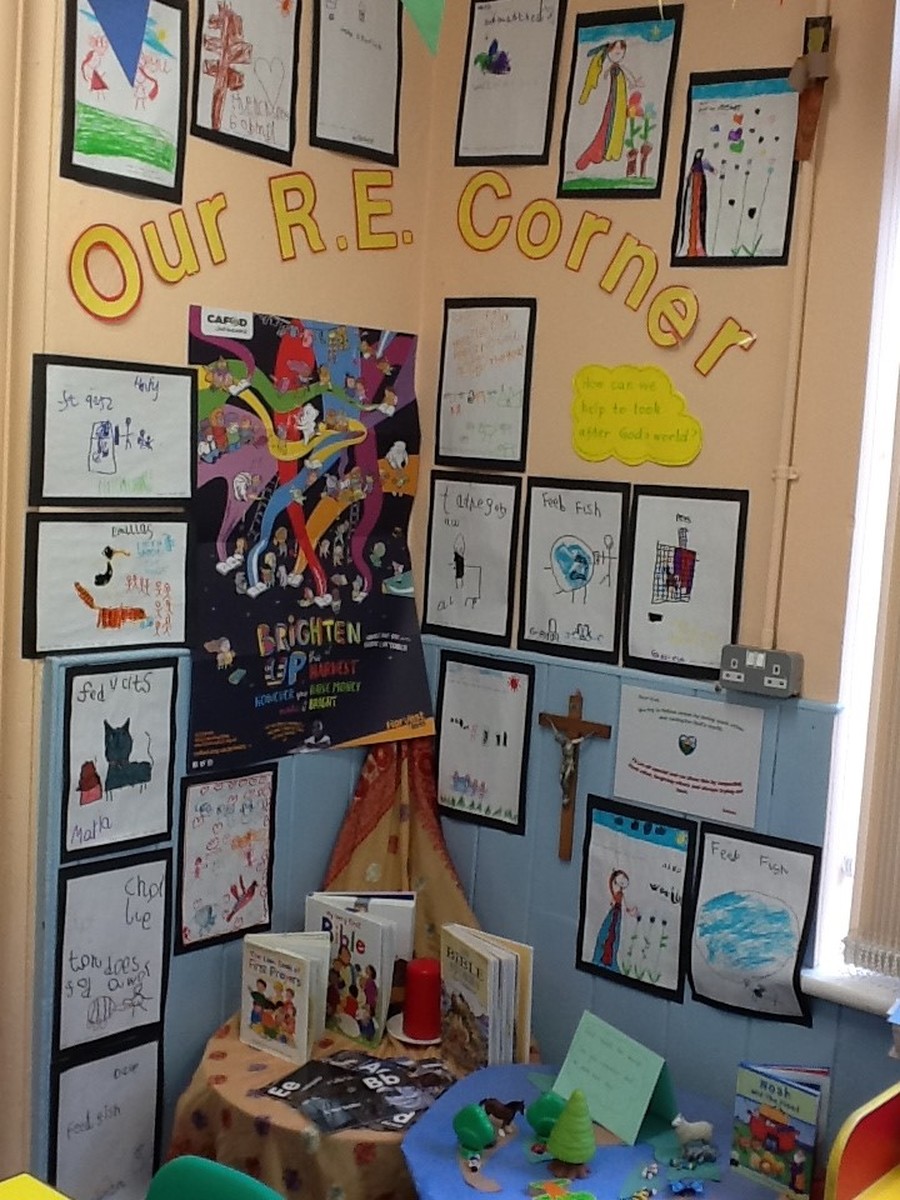 Year 2 took part in an exciting retreat held by Ignite, a new venture from the Catholic Diocese of East Anglia. The class has a wonderful time singing and dancing with some fantastic reviews:
James- "We listened to some prayers"
Katiya- "The songs were about Jesus"
Lawrence- " I felt happy"
Year 1 Kingfishers have been learning about Creation by using a 'small world' to help them understand this

What a wonderful start to the school year 2015-2016 with a visit by Ignite, an exciting new Youth Service in East Anglia who brought singing, dancing and laughter as a way of celebrating Jesus' love to the Year 1 Kingfishers.
Quotes from the class include: Oliver- "I liked the music, it was about Jesus", Charlie- "I liked the monkey song. I loved Scruffy the puppet", Jhenzel- "I nearly cried", Oli- "We had a lovely day. It was like a children's fairytale"
Take a look at some of the wonderful Religious Education activities we got up to last year!
Year 5 and 6 joined the Catholic School's Pilgrimage to Walsingham.
As part of Year 6 topic 'Work of the Apostles' we invited some members of our local Christian community. Pupils were able to ask their questions and learn more about each of the roles. It turned out to be very fruitful meeting and we found out many interesting things about being a priest, organist or a person who takes the holy communion to the sick people. Big 'Thank you' goes to our guests for giving up their time to share their experiences with the pupils.
We had great fun in our dance workouts for Lepra and raised an amazing £1250!
This is a life changing amount of money for the forty young people who will be cured as a result of this effort. Thank you to everyone who supported our very successful Lenten charity appeal. As ever a magnificent response from our ever-generous parents and children.
St Augustine's hosted the Diocesan cross for the day. Every class had their own prayer session and we finished with a whole school assembly.
Year 2 making music with a variety of different instruments when learning about the 7 days in which God created the world.
Year 3's Holy Week Activities
Palm Sunday - Jesus rides into Jerusalem
Maundy Thursday - Jesus washes the feet of the disciples.